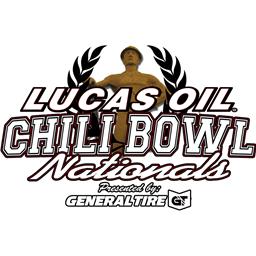 1/17/2009
Lucas Oil Chili Bowl Nationals
---
Sammy Swindell Gets One for the Thumb with Fifth Chili Bowl Win!
Lonnie Wheatley, TULSA, Okla. (January 17, 2009) – Sammy Swindell put the finishing touches on a perfect week by racing to victory lane in Saturday night's 23rd Annual Lucas Oil Chili Bowl Nationals presented by General Tire 50-lap championship feature event, besting an event record of 281 competitors.
After slipping back as far as fifth for a brief moment at the race's midway point, the Tennessee shoe took to the upper reaches of the QuikTrip Center's ¼-mile Tulsa Expo Raceway clay oval and blitzed to the head of the pack in short order, taking the lead away from Tracy Hines on the 34th circuit.
"To pull this off the way we did, to be undefeated here in every race, it was fun," Swindell commented afterward. "We had a great car and a lot of good fortune that we didn't get in trouble, and didn't tear up anything or get banged around."
Swindell survived a set of cautions in the final handful of circuits along with a foray or two above the turns one and two cushion to capture an unprecedented fifth Chili Bowl title and the coveted Golden Driller trophy that goes along with it.
Swindell was chased to the line by Hines, with Brad Kuhn making a last-corner move around Jerry Coons, Jr., to snare the show position. J.J. Yeley rounded out the top five.
The triumph, his first since reeling off four wins over the stretch from 1989 to 1998, capped an undefeated week of competition for "Slammin' Sammy" aboard the unique Esslinger-powered Venture Racing/ARIENCO/John Christner Trucking No. 1 Spike that sported an old-school appearing super modified tail tank.
Swindell opened the week with a Race of Champions victory on Tuesday and then swept Wednesday night's card with wins in heat race, qualifying race and main event competition to establish himself as a strong favorite in Saturday night's finale.
"Sometimes you can really get in trouble when you have a car that's really good," Swindell explained. "This place here is a little bit of momentum and rhythm, if I can get in that one little zone there I don't make many mistakes."
For the first half of Saturday's finale, third-starter Swindell was chasing front row starters Hines and Coons, who paced the initial 26 circuits that ran off in rapid fire fashion with the only interruption a lap 19 spin in turn four by Josh Ford.
While Coons led from the outset, Hines persistently pressured for the lead with Swindell, Kuhn and Levi Jones in pursuit. A Hines bobble exiting turn two on the tenth round briefly moved Swindell into second, only to have Hines battle back by two laps later as the leaders worked the tail of the field.
The pace continued after the lap 19 caution, with Hines taking quick advantage to take the lead by ducking underneath a Coons' push exiting turn four on the 27th lap.
Meanwhile, Swindell turned up the jets after slipping behind Kuhn and then Jones. "I tried to slow down a time or two and slowed down too much."
Stepping up the pace, Swindell quickly negated Jones' move and took to the top side of the track, blasting by Kuhn, then Coons and then Hines on successive laps to take command on the 34th circuit.
"I wanted to have a car that was good the second half, I was just waiting for everyone to get comfortable on the bottom and it left me the top open," Swindell explained. "I just caught it right at the right time, I played my cards good."
Despite narrowly missing a Donnie Ray Crawford spin on the 37th lap, surviving a perilous trip into the cushion on the 47th lap and three late cautions, Swindell raced to Roger Slack's checkered flag without challenge over the final 17 rounds.
Hines and Coons battled for runner-up honors behind the lapped cars separating them from Swindell in the final rounds, with 2005 Chili Bowl king Hines finally taking runner-up honors in Tony Stewart's Kistler-powered Chevy/Bass Pro Shops No. 21 Spike.
"Basically, we just didn't tighten the race car up enough," Hines explained afterward. "We did exactly what we wanted to do, it just wasn't enough."
Salt was added to the Coons wound when Brad Kuhn battled by in the final corner to take the show position in the Toyota-powered RW Motorsports No. 17b Beast, bettering his previous best Chili Bowl finish of fourth in 2006.
Coons settled for fourth in the Toyota-powered Wilke-PAK Motorports Speedway Motors No. 11 Spike, his best career Chili Bowl finish in a dozen tries.
J.J. Yeley rounded out the top five in Cruz Pedregon's Toyota-powered Odyssey Batteries No. 1J Spike by nipping Dave Darland at the line by inches. Darland settled for sixth, with Chris Windom charging from 23rd to seventh in his second Chili Bowl championship feature start.
Cole Whitt climbed from 17th to eighth, with Steve Buckwalter edging Brad Loyet at the line for ninth.
Loyet's tenth-place showing aboard one of three Loyet Motorsports entries in the finale was the best of a handful of drivers that made the cut for their first career Chili Bowl championship feature event including Gary Taylor (12th), Ricky Stenhouse, Jr. (14th), Thomas Meseraull (16th) and Chad Kemenah (25th).
Loyet also beat teammates Jon Stanbrough (13th) and Jesse Hockett (18th) in the finale as Loyet Motorsports bested the other super-teams by landing three drivers in the main event. Tony Stewart, Wilke-PAK, Keith Kunz Motorsports, Tel-Star Communications and Daryl Saucier each had two cars make the main event.
After exiting "C" Main action, defending Chili Bowl champion Damion Gardner utilized the defending champion's provisional to start 25th and ultimately took the checkered flag in 19th.
Levi Jones held down the fifth position until jumping the turn two cushion and stalling his mount just five laps short of the checkered flag. Jones was credited with 24th after calling it a night.
NASCAR star Kasey Kahne's day was cut short when he tangled with Jason Meyers while dicing for a transfer position just three laps short of the night's first "C" Main.
The night's main event capped a full day of racing action that included 23 championship feature events that opened with Twin "L" Mains.
Cody Kershaw opened the day with a win in the first "L" Main in Chili Bowl history, with Dusty Heistand winning the second "L" Main.
Kevin Bayer won the first "K" Main and then advanced through "J" and "I" action before his day ended in an "H". Plagued by misfortune during the week, 2008 Belleville Midget Nationals champion Brad Sweet won the second "K" Main (in which Dylan Peterson took down some turn one fencing) and advanced through the second "J" before an "I" tangle doused his hopes of a significant alphabet run.
Chad DeSelle won the first "J" Main before advancing from an "I", with Brock Lemley winning the second "J".
Dave Camfield, Jr., raced past Glenn Styres on the third circuit en route to winning the first "I" Main punctuated by a wild backstretch tumble by French Grimes, while Will Pierce wired the field in the second "I".
Eventual first "H" winner Rick England took the point away from Jennifer Greenberg on the third round, while Joe Cleveland took command of the second "H" for keeps when leader Ricky Ehrgott did a not-quite-quick-enough 360-degree spin in turn four on the third lap.
A top-ten finisher last year, Brady Bacon's day opened with a hard-fought "G" Main win over "H" Main transfer Danny Stratton followed by a late charge on the top side to claim the fourth and final move-up in the first "F" Main before running out of steam in the "E". Matt Mitchell led all the way in the second "G" before mechanical woes early in the "F" ended his day.
Critter Malone aced the first "F", with Garrett Hansen matching the trick in the second "F" in front of "G" Main transfer Davey Ray, who survived a four-wide scramble into the final pair of corners to move on from his "G".
Chad Boat sailed to the first "E" Main win, with Jeff Bland, Jr., victorious in the second "E" Main.
Jason Meyers fought off Matt Streeter to win the first "D" Main, while Cole Carter made a late move around Billy Wease to win the second "D" as Hunter Schuerenberg shot from 14th to third.
Jason Leffler beat Kevin Swindell to the line in the first "C" Main, with Mat Neely taking the checkered flag in a second "C" that concluded with the day's nastiest flip as Frank Polimeda biked it and then barrel rolled a half-dozen times down the frontstretch in a valiant effort gone bad to take the sixth and final transfer position from Bud Kaeding.
Josh Ford won the first "B" Main to make the grade for his second consecutive Chili Bowl main event as Windom nipped Brent Beauchamp by just 0.011-seconds for the sixth and final transfer position. Danny Lasoski was battling for a transfer position until flipping after contact with Bryan Clauson, who also incurred damage in the scrum.
Casey Shuman won the second "B" Main, with Shane Hmiel ranking as this year's top finishing Chili Bowl rookie when he missed the feature cut by just one position in seventh. Darren Hagen had climbed from 12th to the final transfer in sixth only to be forced to the infield four laps shy of the checkered flag in the 20-lapper.
Saturday's 23rd Annual Lucas Oil Chili Bowl Midget Nationals presented by General Tire Championship Feature Results
L Mains (Top 4 transfer to back of corresponding K Main)
L Main 1: 1. #6Z Cody Kershaw, Oak Park, CA; 2. #87C Tim Crawley, Benton, AR; 3. #27A Brent Swift, Norman, OK DNS - #1B Scott Crystal, Overland Park, KS; #0C Cameron Beard, Atwater, CA; #5T Randy Timms, Wheatland, OK; #63R Rob Parish, Knightstown, IN; #55K Nick Knepper, Belleville, IL; #2 Mark Bush, Cumming, GA
L Main 2: 1. #6D Dusty Heistand, Manheim, PA; 2. #3 Julee Jamison, Littleton, CO; 3. #39J Justin Grosz, Hawley, PA; 4. #6X #Dylan Peterson, Sioux Falls, SD; 5. #05X Channing Zierolf, Houma, LA; DNS - #92M Josh Most, Red Oak, IA; #1M Garry Lee Maier, Cimarron, KS; #57B Johnny Heydenreich, Indianapolis, IN
K Mains (10 Laps - Top 4 transfer to back of corresponding J Main)
K Main 1: 1. #91K Kevin Bayer, Broken Arrow, OK; 2. #21Z Jessica Zemken, Sprakers, NY; 3. #89 Todd McVay, Lees Summit, MO; 4. #6Z Cody Kershaw, Oak Park, CA; 5. #6 Brian Carter, Frisco, TX; 6. #27A Brent Swift, Norman, OK; 7. #4R Robby Ross, St. Joseph, MO; 8. #48 Lee Little, Mustang, OK; 9. #87C Tim Crawley, Benton, AR; 10. #3A Bill Allen, Independence, MO; 11. #61A Kevin Battles, Collinsville, OK; 12. #76K Frank Ikerd, Loma, Linda, MO; 13. #11A Andrew Felker, Carl Junction, MO; DNS - #0J Johnny Murdock, Kaufman, TX; #22AZ Stevie Sussex, Buckeye, AZ
K Main 2: 1. #49 Brad Sweet, Grass Valley, CA; 2. #18A Floyd Alvis, San Carlos, CA; 3. #21J John Lowrey, Bakersfield, CA; 4. #6D Dusty Heistand, Sioux Falls, SD; 5. #10C Scott Allen, Kansas City, KS; 6. #33 Scott Fennell, Littleton, CO; 7. #39J Justin Grosz, Hawley, PA; 8. #3 Julee Jamison, Littleton, CO; 9. #92R Jake Rosario, Guthrie, OK; 10. #6M Justin Mallo, Cheyenne, WY; 11. #1K Ron Kuhn, Lees Summit, MO; 12. #7J Eric Todd, Falcon, MO; 13. #35P Tim Spurgeon, San Ramon, CA; 14. #6X Dylan Peterson, Sioux Falls, SD; DNS – #3F Ned Fry, West Burlington, IA; #11B Scott Weir, Marion, IN
J Mains (10 Laps - Top 4 transfer to back of corresponding I Main)
J Main 1: 1. #94 Chad DeSelle, Sun Prairie, WI; 2. #91K Kevin Bayer, Broken Arrow, OK; 3. #5M Wayne Modjeski, Oak Creek, WI; 4. #31X Scott Nail, Visalia, CA; 5. #89 Todd McVay, Lees Summit, MO; 6. #6Z Cody Kershaw, Oak Park, CA; 7. #98G Gavin Galbraith, Washington, MO: 8. #63N Rex Norris, Spiceland, IN; 9. #21Z Jessica Zemken, Sprakers, NY; 10. #31L Chuck Knight, Fort Smith, AR; 11. #77 Jimmy Winkler, Parkville, MO; 12. #50T Tom Everhart, El Cajon, CA; 13. #31V Victor Davis, Simi Valley, CA; 14. #5A Peter Palazzolo, Pacific, MO; DNS - #3W Brandon Waelti, Sun Prairie, WI; #25Z Chris Zrinski, Forked River, NJ
J Main 2: 1. #10B Brock Lemley, Bellingham, WA; 2. #1X Eddie Martin, Stilwell, OK: 3. #33A Stephen Arnold, Seymour, IN; 4. #49 Brad Sweet, Grass Valley, CA; 5. #51S Kiley Fellars, Buckeye, AZ; 6. #6D Dusty Heistand, Sioux Falls, SD; 7. #9M Doug McCune, Fort Worth, TX; 8. #18A Floyd Alvis, San Carlos, CA; 9. #20B Carey Becker, Reading, PA; 10. #78C Tony Roland, Valparaiso, IN; 11. #10W George White, Fort Worth, TX; 12. #21J John Lowrey, Bakersfield, CA; 13. #45 Aaron Kirk, Conroe, TX DNS - #21K Kurt Mayhew, Demotte, IN; #07 Billy Mentgen, Jamestown, IN, #11XC Steve Newman, Breckenridge, CO
I Mains (10 Laps - Top 4 transfer to back of corresponding H Main)
I Main 1: 1. #86C Dave Camfield Jr., Decatur, IL; 2. #34 Evan Sewell, Tulsa, OK; 3. #91K Kevin Bayer, Broken Arrow, OK; 4. #94 Chad DeSelle, Sun Prairie, WI; 5. #5M Wayne Modjeski, Oak Creek, WI; 6. #73T Samantha Taylor, Bonney Lake, WA; 7. #31X Scott Nail, Visalia, CA; 8. #99J Robby Josett, Agua Dulce, CA; 9. #0 Glenn Styres, Ohsweken, ONT; 10. #86J Jim Donley, Yuma, AZ; 11. #50 Ted Kirkpatrick, Waterloo, IL; 12. #F1 French Grimes, Madison, VA; 13. #91 Joe Duvall, Chelsea, OK; 14. #67X Landon Simon, Tipp City, OH; 15. #11H Garrett Hood, Concordia, KS DNS - #2X Doug Day, Winder, GA
I Main 2: #10 Will Pierce, Lees Summit, MO; 2. #68 Jonathan Hendrick, Fortville, IN; 3. #1X Eddie Martin, Stilwell, OK; 4. #64 Brett Miller, Chico, CA; 5. #59 Dex Eaton, Owasso, OK: 6. #37W Joe Walker, Harrisonville, MO; 7. #17P Cruz Pedregon, Brownsburg, IN; 8. #14T Tony Rossi, Brighton, CO; 9. #98 Curtis Bailey, Bartlesville, OK; 10. #31C Larry Campbell, Van Buren, AR; 11. #22S Brandon Spithaler, Evans City, PA; 12. #10V Viktor Sinzig, Cupertino, CA; 13. #10B Brock Lemley, Bellingham, WA; 14. #33A Stephen Arnold, Seymour, IN; 15. #49 Brad Sweet, Grass Valley, CA; DNS - #6E Rafe Essary, Fayetteville, AR
H Main (10 Laps - Top 4 transfer to back of corresponding G Main)
H Main 1: #12C Rick England, Wichita, KS; 2. #F5 Danny Stratton, Indianapolis, IN; 3. #36F Frank Flud, Pryor, OK; 4. #34 Evan Sewell, Tulsa, OK: 5. #25K Eric Jacobsen, Santa Cruz, CA; 6. #07X Jennifer Greenberg, Albuquerque, NM; 7. #91K Kevin Bayer, Broken Arrow, OK; 8. #17M Marc Robe, Wichita, KS; 9. #94 Chad DeSelle, Sun Prairie, WI; 10. #27C Tony Elliott, Warsaw, IN; 11. #10X Kelly Ferrell, Chaplin, CT; 12. #74 Ernie Bartley III, El Cajon, CA; 13. #4F Chad Frewaldt, Kansas City, KS; 14. #86C Dave Camfield Jr., Decatur, IL; 15. #17BB Brent Burdette, Sunman, IN; 16. #60 Eric Sandage, Alexander, AR
H Main 2: 1. #11C Joe Cleveland, Delphos, KS; 2. #14K Henry Clarke, Villa Park, CA; 3. #88W Shane Golobic, Fremont, CA; 4. #24 #Nick Foster Jr., San Jose, CA; 5. #8R Ricky Ehrgott, Brownsburg, IN; 6. #31D David Budres, Beloit, WI; 7. #1X Eddie Martin, Stilwell, OK; 8. #10 Will Pierce, Lees Summit, MO; 9. #68 Jonathan Hendrick, Fortville, IN; 10. #6J Justin Barger, Montrose, NY; 11. #27D Danny Jennings, Norman, OK; 12. #73M Tanner Mullens, Andale, KS; 13. #64 Brett Miller, Chico, CA; 14. #D1 Barry Lamb, Moran, KS; 15. #85J Matt Johnson, Oklahoma City, OK DNS – Tim McCreadie, Watertown, NY
G Main (10 Laps - Top 4 transfer to back of corresponding F Main)
G Main 1: 1. #99 Brady Bacon, Broken Arrow, OK; 2. #F5 Danny Stratton, Indianapolis, IN; 3. #04 Cap Henry, Bellevue, OH; 4. #58 Cole Peard, Quincy, CA; 5. #34 Evan Sewell, Tulsa, OK; 6. #24C Casey Riggs, Shelbyville, IN; 7. #70X Andrew Elson, Carmel, IN; 8. #36F Frank Flud, Pryor, OK; 9. #11J Justin Melton, Flower Mound, TX; 10. #12C Rick England, Wichita, KS; 11. #87 Danny Faria Jr., Tipton, CA; 12. #71T Tim Pyle, Gresham, OR; 13. #8E Murray Erickson, Odessa, TX; 14. #83 Kurt Blackaby, Bentonville, AR; 15. #10E Eli Deshaies, N. Kingstown, RI; DNS - #85B Jerry Bell Jr., Sachse, TX
G Main 2: 1. #37 Matt Mitchell, Yorba Linda, CA; 2. #7S Shannon McQueen, Bakersfield, CA; 3. #35 Travis Berryhill, American Canyon, CA; 4. #75R Davey Ray, Loves Park, IL; 5. #1AZ Jeff Perry, Buckeye, AZ; 6. #33S Austin Smith, Chino Hills, CA; 7. #24 Nick Foster Jr., San Jose, CA; 8. #57 Kevin Studley, Plainfield, IN; 9. #88W Shane Golobic, Fremont, CA; 10. #14K Henry Clarke, Villa Park, CA; 11. #2D Steven Davis, Norco, CA; 12. #76 Kellen Conover, Sumner, IL; 13. #83H Jonathan Halford, Tulsa, OK; 14. #11C Joe Cleveland, Delphos, KS; 15. #23F J.T. Stapp, Greensburg, IN; DNS - #7C Chris Burns, Bethany, OK
F Main (10 Laps - Top 4 transfer to back of corresponding E Main)
F Main 1: 1. #7 Critter Malone, Speedway, IN; 2. #1T Tony Roney, Herculaneum, MO; 3. #20R Josh Richards, Shinnston, WV; 4. #99 Brady Bacon, Broken Arrow, OK; 5. #F5 Danny Stratton, Indianapolis, IN; 6. #27 Ryan Kaplan, Chico, CA; 7. #401 Daniel Adler, E. Carondolet, IL; 8. #11XS Donovan Peterson, Brookings, SD; 9. #58 Cole Peard, Quincy, CA; 10. #31 Donnie Lehmann, Springfield, IL; 11. #2G Terry Goodwin, Phoenix, AZ; 12. #81X Shane Carson, Yukon, OK; 13. #5K Jeff Wimmenauer, Indianapolis, IN; 14. #57X Jason Holt, Brownsville, IN; 15. #15N David Prickett, Fresno, CA; 16. #04 Cap Henry, Bellevue, OH
F Main 2: 1. #70 Garrett Hansen, Manhattan Beach, CA; 2. #75R Davey Ray, Loves Park, IL; 3. #51 Brent Camarillo, Camarillo, CA; 4. #12Z Drew Heistand, Wrightsville, PA; 5. #1D Dennis Rodriguez, Camarillo, CA; 6. #35 Travis Berryhill, American Canyon, CA; 7. #1W Paul White, Temple, TX; 8. #15D Andrew Deal, Caney, KS; 9. #2M Anthony Peterman, Crawfordsville, IN; 10. #47X Jerome Rodela, El Monte, CA; 11. #6R Jody Rosenboom, Rock Rapids, IA; 12. #39B Billy Wilburn, Mooresville, NC; 13. #7S Shannon McQueen, Bakersfield, CA; 14. #25A Aaron Ott, York Springs, PA; 15. #51G P.J. Gargiulo, Morton, PA; 16. #37 Matt Mitchell, Yorba Linda, CA
E Main (10 Laps - Top 4 transfer to back of corresponding D Main)
E Main 1: 1. #30 Chad Boat, Phoenix, AZ; 2. #1C Chad McDaniel, Concordia, KS; 3. #49P Billy Pauch, Frenchtown, NJ; 4. #85 Shane Hollingsworth, Lafayette, IN; 5. #44P P.J. Jones, Torrance, CA; 6. #99 Brady Bacon, Broken Arrow, OK; 7. #71K Cale Conley, Vienna, WV; 8. #81 Doug Kammerzell, Arlington, WA; 9. #1T Tony Roney, Herculaneum, MO; 10. #20R Josh Richards, Shinnston, WV; 11. #29 Nick Smith, Broken Arrow, OK; 12. #18 Donnie Trent, Honey Brook, PA; 13. #02 Matthew Rossi, Peoria, AZ; 14. #7E Blake Miller, Yorba Linda, CA; 15. #7 Critter Malone, Speedway, IN; 16. #55T Tony Everhart, El Cajon, CA
E Main 2: 1. #37J Jeff Bland Jr., Bloomington, IN; 2. #51J R.J. Johnson, Phoenix, AZ; 3. #96 Cody Brewer, Choctaw, OK; 4. #75 David Gough, Machesney Park, IL; 5. #9JR Derek Hagar, Marion, AR; 6. #75R Davey Ray, Loves Park, IL: 7. #7A Bubba Altig, Marengo, IL: 8. #11S Chris Sheil, Englewood, CO; 9. #70 Garrett Hansen, Manhattan Beach, CA; 10. #99K Kevin Kierce, Reseda, CA; 11. #12Z Drew Heistand, Wrightsville, PA; 12. #51 Brent Camarillo, Camarillo, CA; 13. #81K Rob Kershaw, Oak Park, CA; 14. #12H Rick Hendrix, Palmdale, CA; 15. #7G Joe Boyles, Greenwood, MO; 16. #25M Derrick Myers, Stonington, IL
D Main (15 Laps - Top 6 transfer to back of corresponding C Main)
D Main 1: 1. #14J Jason Meyers, Clovis, CA; 2. #14JR Matt Streeter, Galt, CA; 3. #47 Cory Kruseman, Ventura, CA; 4. #17T Justin Grant, Ione, CA; 5. #39 Kevin Swindell, Germantown, TN; 6. #78 Nick Wean, Phillipsburg, NJ; 7. #49P Billy Pauch, Frenchtown, NJ; 8. #35R Tyler Robbins, Collinsville, OK; 9. #1C Chad McDaniel, Concordia, KS; 10. #30 Chad Boat, Phoenix, AZ; 11. #89C Cody Darrah, Red Lion, PA; 12. #69 A.J. Fike, Galesburg, IL; 13. #8G Coleman Gulick, Binghamton, NY; 14. #31B Bruce Douglass, Ventura, CA; 15. #11R Ryan Cole, Porter, OK; 16. #10R Rob Russell, Fremont, CA; 17. #2B Wayne Johnson, Oklahoma City, OK; DNS – Shane Hollingsworth, Lafayette, IN
D Main 2: 1. #007 Cole Carter, Brownsburg, IN; 2. #12W Billy Wease, Noblesville, IN; 3. #39H Hunter Schuerenberg, Sikeston, MO; 4. #22 Brian Camarillo, Ventura, CA; 5. #35M Matt Sherrell, Owasso, OK: 6. #67S Brady Short, Bedford, IN; 7. #87X Rich Camfield, Decatur, IL; 8. #97J Kyle Larson, Elk Grove, CA; 9. #7R Keith Rauch, Thornton, CO; 10. #51J R.J. Johnson, Phoenix, AZ; 11. #8 Randi Pankratz, Atascadero, CA; 12. #96 Cody Brewer, Choctaw, OK: 13. #75 David Gough, Machesney Park, IL; 14. #37J Jeff Bland Jr., Bloomington, IN; 15. #4M Jimmy Light, Indianapolis, IN; 16. #84 Joey Fabozzi, Norco, CA; 17. #11X Ricky Williams, Clinton, OH; 18. #7X Michelle Decker, Guthrie, OK
C Mains (15 Laps - Top 6 to back of corresponding B Main)
C Main 1: 1. #38 Jason Leffler, Long Beach, CA; 2. #39 Kevin Swindell, Germantown, TN; 3. #47B Bryan Clauson, Noblesville, IN; 4. #75W Josh Wise, Riverside, CA; 5. #D33 Joey Moughan, Springfield, IL; 6. #21T Don Droud Jr., Lincoln, NE; 7. #21X Kevin Olson, Machesney Park, IL: 8. #82 Mike Hess, Riverton, IL; 9. #17K Austin Mero, Kingsburg, CA; 10. #44 Ryan Pace, Brownsburg, IN; 11. #17T Justin Grant, Ione, CA; 12. #24D Daniel Robinson, Wayne City, IL; 13. #7R Paul McMahan, Nashville, TN; 14. #67K Kasey Kahne, Enumclaw, WA; 15. #78 Nick Wean, Phillipsburg, NJ; 16. #7B Austin Brown, Millstadt, IL; 17. #47 Cory Kruseman, Ventura, CA; 18. #14J Jason Meyers, Clovis, CA; 19. #2S Damion Gardner, Pittsboro, IN; 20. #14JR Matt Streeter, Galt, CA
C Main 2: 1. #73X Mat Neely, Robinson, IL; 2. #87J Johnny Rodriguez, Galt, CA; 3. #5D Zach Daum, Pocahontas, IL: 4. #56 Shane Hmiel, Huntersville, NC; 5. #49JR Bobby Michnowicz, Torrance, CA; 6. #8X Bud Kaeding, Campbell, CA; 7. #44F Frank Polimeda, Fort Lee, NJ; 8. #36 Jonathan Beason, Broken Arrow, OK; 9. #12W Billy Wease, Noblesville, IN; 10. #35M Matt Sherrell, Owasso, OK; 11. #8J Greg Wilson, Benton Ridge, OH; 12. #55C Caleb Armstrong, New Castle, IN; 13. #39H Hunter Schuerenberg, Sikeston, MO; 14. #22 Brian Camarillo, Ventura, CA; 15. #15H Scott Hatton, Roscoe, IL; 16. #67S Brady Short, Bedford, IN; 17. 35X Scott Pierovich, Alamo, CA; 18. #007 Cole Carter, Brownsburg, IN; 19. #88 Johnathon Henry, Stockton, CA; 20. #73W Austen Wheatley, Lake Stevens, WA
B Mains (20 Laps - Top 6 in each advance to A Main)
B Main 1: 1. #73 Josh Ford, Oxnard, CA; 2. #71 Cole Whitt, Alpine, CA; 3. #1S Shane Cottle, Kokomo, IN; 4. #4 Bobby East, Brownsburg, IN; 5. #05H Jesse Hockett, Warsaw, MO; 6. #17 Chris Windom, Canton, IL; 7. #112 Brent Beauchamp, Fairland, IN; 8. #67 Jay Drake, Brownsburg, IN; 9. #1DM Dustin Morgan, Collinsville, OK; 10. #75W Josh Wise, Riverside, CA; 11. #47B Bryan Clauson, Noblesville, IN; 12. #71S Mike Spencer, Temecula, CA; 13. #21T Don Droud Jr., Lincoln, NE; 14. #D33 Joey Moughan, Springfield, IL; 15. #39 Kevin Swindell, Germantown, TN; 16. #05L Danny Lasoski, Higginsville, MO; 17. #17F Mike Goodman, Tulsa, OK; 18. #71X Gary Wright, Hooks, TX; 19. #38 Jason Leffler, Long Beach, CA; DNS - #12 Trey Robb, Newcastle, OK
B Main 2: 1. #37X Casey Shuman, Tempe, AZ; 2. #21P Daryn Pittman, Owasso, OK; 3. #5* Gary Taylor, Sapulpa, OK; 4. #2A Thomas Meseraull, San Jose, CA; 5. #8K Chad Kemenah, Alvada, OH; 6. #55 Donnie Crawford, Tulsa, OK; 7. #56 Shane Hmiel, Huntersville, NC; 8. #5D Zach Daum, Pocahontas, IL; 9. #15 Tim Siner, Dupo, IL: 10. #11T Terry McCarl, Altoona, IA; 11. #14W Matt Westfall, Ludlow Falls, OH; 12. #7D Dakoda Armstrong, New Castle, IN; 13. #8X Bud Kaeding, Campbell, CA; 14. #26 Glenn Carson, Concord, CA; 15. #73X Mat Neely, Robinson, IL; 16. #7M Kevin Ramey, Fort Worth, TX; 17. #32 Darren Hagen, Riverside, CA; 18. #87J Johnny Rodriguez, Galt, CA; 19. #12JR Nathan High, Goodyear, AZ; 20. #49JR Bobby Michnowicz, Torrance, CA
A Main (50 laps)
#1 Sammy Swindell, Germantown, TN; 2. #21 Tracy Hines, Greenfield, IN; 3. #17B Brad Kuhn, Avon, IN; 4. #11 Jerry Coons Jr., Tucson, AZ; 5. #1J J.J. Yeley, Phoenix, AZ; 6. #5 Dave Darland, Lincoln, IN; 7. #17 Chris Windom, Canton, IL; 8. #71 Cole Whitt, Alpine, CA; 9. #25 Steve Buckwalter, Royersford, PA; 10. #05 Brad Loyet, Sunset Hills, MO; 11. #37X Casey Shuman, Tempe, AZ; 12. #5* Gary Taylor, Sapulpa, OK; 13. #05S Jon Stanbrough, Avon, IN; 14. #132 Ricky Stenhouse, Olive Branch, MS; 15. #4 Bobby East, Brownsburg, IN; 16. #2A Thomas Meseraull, San Jose, CA; 17. #55 Donnie Ray Crawford, Tulsa, OK; 18. #05H Jesse Hockett, Warsaw, MO; 19. #2S Damion Gardner, Pittsboro, IN; 20. #21P Daryn Pittman, Owasso, OK; 21. #86 Justin Allgaier, Cornelius, NC; 22. #73 Josh Ford, Oxnard, CA; 23. #1S Shane Cottle, Kokomo, IN; 24. #20 Levi Jones, Olney, IL; 25. #8K Chad Kemenah, Alvada, OH
---
Submitted By: Admin Account
Back to News