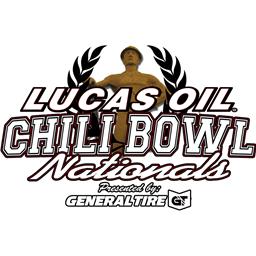 1/16/2009
Lucas Oil Chili Bowl Nationals
---
Coons Covers Friday Chili Bowl Qualifying Field
Lonnie Wheatley, TULSA, Okla. (January 16, 2009) – Arizona native Jerry Coons, Jr., took center stage by topping the fourth and final qualifying card on Friday night at the 23rd Annual Lucas Oil Chili Bowl Nationals presented by General Tire.
The reigning USAC Sprint Car and Silver Crown champion gunned into the lead at the outset and kept the Toyota-powered Wilke-PAK Motorsports Speedway Motors No. 11 Spike out front for the entire 25-lap distance atop the QuikTrip Center's Tulsa Expo Raceway ¼-mile clay oval.
Coons was chased to the stripe by Levi Jones in Tony Stewart's Kistler-powered Chevy/Bass Pro Shops No. 20 Spike, representing a flip-flop of Thursday night's first and second finishing car owners.
Also locking into Saturday night's 50-lap Chili Bowl championship finale was Missouri Midget ace Brad Loyet, who battled past defending race winner Damion Gardner for third place on the ninth round and held it the rest of the way.
Coons, Jones and Loyet will join the top three finishers from each of the Tuesday, Wednesday and Thursday night qualifiers, with the balance of the record field of 281 competitors set to battle it out through a full slate of feature action beginning with Twin "L" Mains at 11:45 a.m. on Saturday.
Coons weathered four caution periods over the initial dozen circuits before finishing out the final 13 rounds in non-stop fashion.
"Levi gave me a pretty good run there on one restart, he was there under me for a lap or two," Coons explained. "That kind of made me question the rest of the restarts, I just tried to mix up my restarts and keep him behind me."
That's exactly what Coons did, as he slipped away from Jones and the rest of the field over the final half of the race to win his second career Chili Bowl preliminary main event.
Jones settled for second, commenting that, "I'm proud of my team, we've got our cars dialed in here and hopefully we'll make the right decisions. We'll see what Emmett does with the track Saturday night and see where we end up."
Just as the lead trio of Coons, Jones and Loyet took the checkered flag to complete the race, the yellow lights flickered when Jonathan Beason, Matt Streeter and Billy Wease tangled in turn one. At the same time, Kasey Kahne surrendered the fifth position when he spun to a stop in turn four.
Oklahoma native Daryn Pittman crossed the stripe fourth, with USAC Midget champion Cole Whitt charging from 18th to round out the top five.
Tim Siner climbed eight positions to claim sixth, with Trey Robb, Matt Westfall, Dustin Morgan and 22nd-starter Dakoda Armstrong completing the top ten.
After starting eighth, two-time Chili Bowl champion Cory Kruseman was dicing for position when he looped his machine in turn one with five laps in the books. Six laps later, Jason Leffler jumped a tire a slid to a stop exiting turn two.
In his bid to become the first back-to-back winner in Chili Bowl Nationals history, Damion Gardner ran among the top three in the early stages before Loyet slid by. Gardner spun three laps later trying to regain the position, salvaging a 14th-place finish after restarting at the rear of the field.
Greg Wilson was the lone Chili Bowl Nationals Rookie of the Year contender to make the feature cut and recovered for a 13th-place showing after getting caught up in a lap eight tangle that also included Cole Carter, Rich Camfield and Bud Kaeding.
California's Kyle Larson was a late substitute for New York's Jerry Higbie, Jr., who fell ill prior to heat race action. Larson responded by putting the Corey Tucker mount in the feature event, only to be forced pitside after five laps due to mechanical issues.
Jones, Wayne Johnson, Kahne, Loyet, Morgan, Kruseman, Anthony Peterman, Pittman and Jonathan Beason each topped heat race action, with Coons, Loyet, Kaeding and Leffler winning the qualifying races.
Chili Bowl rookies Cap Henry and Brett Burdette won the "C" Mains, with Whitt and Camfield best in the "B" Mains.
Marc Robe's wild ride down the backstretch was the most violent of the night's eight flips. Danny Faria, Jr., doubled up with flips in both his heat race and a "B" Main, with other tumblers including Brent Swift in heat race action, Julee Jamison and Jimmy Winkler in the first "C" Main and David Budres and Matt Mitchell in the "B" Mains. Everyone walked away uninjured.
Saturday's slate of 23 championship feature events at the 23rd Annual Lucas Oil Chili Bowl Midget Nationals gets under way at 11:45 a.m. with the first of Twin "L" Mains.
Friday Night's O'Reilly Qualifying Results from the 23rd Annual Lucas Oil Chili Bowl Midget Nationals presented by General Tire
Heat Races (8 Laps - Top 40 in passing points to A Qualifiers; Balance to two C Mains)
Heat 1: 1. #20 Levi Jones, Olney, IL; 2. #15N David Prickett, Fresno, CA; 3. #1T Tony Roney, Herculaneum, MO; 4. #85 Shane Hollingsworth. Lafayette, IN; 5. #87X Rich Camfield, Decatur, IL; 6. #25M Derrick Myers, Stonington, IL; 7. #22AZ Stevie Sussex, Laveen, AZ; 8. #11XC Steve Newman, Breckenridge, CO
Heat 2: 1. #2B Wayne Johnson, Oklahoma City, OK; 2. #12 Trey Robb, Newcastle, OK; 3. #23F J.T. Stapp, Greensburg, IN; 4. #37 Matt Mitchell, Yorba Linda, CA; 5. #39B Billy Wilburn, Mooresville, NC; 6. #71T Tim Pyle, Gresham, OR; 7. #F1 French Grimes, Madison, VA; 8. #3F Ned Fry, West Burlington, IA
Heat 3: 1. #67K Kasey Kahne, Enumclaw, WA; 2. #2S Damion Gardner, Pittsboro, IN; 3. #007 Cole Carter, Brownsburg, IN; 4. #5K Jeff Wimmenauer, Indianapolis, IN; 5. #5M Wayne Modjeski, Oak Creek, WI; 6. #91 Joe Duvall, Chelsea, OK: 7. #92M Josh Most, Red Oak, IA; 8. #5A Peter Palazzolo, Pacific, MO
Heat 4: 1. #05 Brad Loyet, Sunset Hills, MO; 2. #6R Jody Rosenboom, Rock Rapids, IA; 3. #8X Bud Kaeding, Campbell, CA; 4. #44P P.J. Jones, Torrance, CA; 5. #31D David Budres, Beloit, WI; 6. #87 Danny Faria Jr., Tipton, CA; 7. #59 Dex Eaton, Owasso, OK; 8. #3 Julee Jamison, Littleton, CO
Heat 5: 1. #1DM Dustin Morgan, Collinsville, OK; 2. #8J Greg Wilson, Benton Ride, OH; 3. #97B Kyle Larson, Elk Grove, CA; 4. #71 Cole Whitt, Alpine, CA; 5. #96 Cody Brewer, Choctaw, OK; 6. #04 Cap Henry, Bellevue, OH; 7. #21J John Lowrey, Bakersfield, CA; 8. #17P Cruz Pedregon, Brownsburg, IN
Heat 6: 1. #47 Cory Kruseman, Ventura, CA; 2. #D1 Barry Lamb, Morgan, KS; 3. #73X Mat Neely, Robinson, IL; 4. #99K Kevin Kierce, Reseda, CA; 5. #21Z Jessica Zemken, Sprakers, NY; 6. #1K Ron Kuhn, Lees Summit, MO; 7. #31C Larry Campbell, Van Buren, AR; 8. #27A Brent Swift, Norman, OK
Heat 7: 1. #2M Crawfordsville, IN: 2. #12W Billy Wease, Noblesville, IN; 3. #14JR Matt Streeter, Galt, CA; 4. #11C Joe Cleveland, Delphos, KS; 5. #17M Marc Robe, Wichita, KS; 6. #17BB Brett Burdette, Sunman, IN; 7. #6D Dusty Heistand, Manheim, PA; 8. #0J Johnny Murdock, Kaufman, TX
Heat 8: 1. #21P Daryn Pittman, Owasso, OK; 2. Jason Leffler, Long Beach, CA; 3. #15 Tim Siner, Dupo, IL; 4. #7D Dakoda Armstrong, New Castle, IN; 5. #55T Tony Everhart, El Cajon, CA; 6. #50 Ted Kirkpatrick, Waterloo, IA; 7. #63R Rob Parish, Knightstown, IN; 8. #77 Jimmy Winkler, Parkville, MO
Heat 9: 1. #36 Jonathan Beason, Broken Arrow, OK; 2. #11 Jerry Coons Jr., Tucson, AZ; 3. #14W Matt Westfall, Ludlow Falls, OH; 4. #10X Kelly Ferrell, Chaplin, CT; 5. #1AZ Jeff Perry, Buckeye, AZ; 6. #1B Scott Crystal, Overland Park, KS; 7. #78C Tony Roland, Valparaiso, IN; 8. #51S Kiley Fellars, Buckeye, AZ
C Mains (12 Laps - Top 4 in each transfer to back of corresponding B Main)
C Main 1: 1. #04 Cap Henry, Bellevue, OH; 2. #1AZ Jeff Perry, Buckeye, AZ; 3. #31D David Budres, Beloit, WI; 4. #71T Tim Pyle, Gresham, OR; 5. #50 Ted Kirkpatrick, Waterloo, IA; 6. #17P Cruz Pedregon, Brownsburg, IN; 7. #F1 French Grimes, Madison, VA; 8. #5A Peter Palazzolo, Pacific, MO; 9. #11XC Steve Newman, Breckenridge, CO; 10. #77 Jimmy Winkler, Parkville, MO; 11. #21Z Jessica Zemken, Sprakers, NY; 12. #1K Ron Kuhn, Lees Summit, MO; 13. #22AZ Stevie Sussex, Laveen, AZ; 14. #92M Josh Most, Red Oak, IA; 15. #6D Dusty Heistand, Manheim, PA; 16. #3 Julee Jamison, Littleton, CO
C Main 2: 1. #17BB Brett Burdette, Sunman, IN; 2. #25M Derrick Myers, Stonington, IL; 3. #39B Billy Wilburn, Mooresville, NC; 4. #87 Danny Faria Jr., Tipton, CA; 5. #31C Larry Campbell, Van Buren, AR; 6. #91 Joe Duvall, Chelsea, OK; 7. #59 Dex Eaton, Owasso, OK; 8. #78C Tony Roland, Valparaiso, IN; 9. #5M Wayne Modjeski, Oak Creek, WI; 10. #51S Kiley Fellars, Buckeye, AZ; 11. #3F Ned Fry, West Burlington, IA; 12. #0J Johnny Murdock, Kaufman, TX; 13. #21J John Lowrey, Bakersfield, CA; 14. #1B Scott Crystal, Overland Park, KS; 15. #27A Brent Swift, Norman, OK; 16. #63R Rob Parish, Knightstown, IN
A Qualifiers (10 Laps - Top 16 in combined passing points to A Main; Balance to twin B Mains)
A Qualifier 1: 1. #11 Jerry Coons Jr., Tucson, AZ; 2. #20 Levi Jones, Olney, IL; 3. #007 Cole Carter, Brownsburg, IN; 4. #12W Billy Wease, Noblesville, IN; 5. #2B Wayne Johnson, Oklahoma City, OK; 6. #87X Rich Camfield, Decatur, IL; 7. #37 Matt Mitchell, Yorba Linda, CA; 8. #23F J.T. Stapp, Greensburg, IN; 9. #73X Mat Neely, Robinson, IL; 10. #55T Tony Everhart, El Cajon, CA
A Qualifier 2: 1. #05 Brad Loyet, Sunset Hills, MO; 2. #47 Cory Kruseman, Ventura, CA; 3. #21P Daryn Pittman, Owasso, OK: 4. #44P P.J. Jones, Torrance, CA; 5. #67K Kasey Kahne, Enumclaw, WA; 6. #97J Kyle Larson, Elk Grove, CA; 7. #14JR Matt Streeter, Galt, CA; 8. #85 Shane Hollingsworth, Lafayette, IN; 9. #6R Jody Rosenboom, Rock Rapids, IA; 10. #5K Jeff Wimmenauer, Indianapolis, IN
A Qualifier 3: 1. #8X Bud Kaeding, Campbell, CA; 2. #36 Jonathan Beason, Broken Arrow, OK; 3. #1DM Dustin Morgan, Collinsville, OK; 4. #12 Trey Robb, Newcastle, OK; 5. #8J Greg Wilson, Benton Ridge, OH; 6. #71 Cole Whitt, Alpine, CA; 7. #96 Cody Brewer, Choctaw, OK; 8. #1T Tony Roney, Herculaneum, MO; 9. #99K Kevin Kierce, Reseda, CA; 10. #D1 Barry Lamb, Moran, KS
A Qualifier 4: 1. #38 Jason Leffler, Long Beach, CA; 2. #2S Damion Gardner, Pittsboro, IN; 3. #14W Matt Westfall, Ludlow Falls, OH; 4. #15 Tim Siner, Dupo, IL: 5. #7D Dakoda Armstrong, New Castle, IN; 6. #15N David Prickett, Fresno, CA; 7. #2M Anthony Peterman, Crawfordsville, IN; 8. #10X Kelly Ferrell, Chaplin, CT; 9. #17M Marc Robe, Wichita, KS; 10. #11C Joe Cleveland, Delphos, KS
B Mains (15 Laps - Top 4 advance to A Main)
B Main 1: 1. #87X Rich Camfield, Decatur, IL; 2. #97J Kyle Larson, Elk Grove, CA; 3. #73X Mat Neely, Robinson, IL; 4. #14JR Matt Streeter, Galt, CA; 5. #44P P.J. Jones, Torrance, CA; 6. #99K Kevin Kierce, Reseda, CA; 7. #55T Tony Everhart, El Cajon, CA; 8. #1T Tony Roney, Herculaneum, MO; 9. #2M Anthony Peterman, Crawfordsville, IN: 10. #15N David Prickett, Fresno, CA; 11. #04 Cap Henry, Bellevue, OH; 12. #1AZ Jeff Perry, Buckeye, AZ; 13. #71T Tim Pyle, Gresham, OR; 14. #10X Kelly Ferrell, Chaplin, CT; 15. #31D David Budres, Beloit, WI; DNS - #17M Marc Robe, Wichita, KS
B Main 2: 1. 1. #71 Cole Whitt, Alpine, CA; 2. #12W Billy Wease, Noblesville, IN; 3. #7D Dakoda Armstrong, New Castle, IN; 4. #8J Greg Wilson, Benton Ridge, OH; 5. #96 Cody Brewer, Choctaw, OK: 6. #85 Matt Hollingsworth, Lafayette, IN; 7. #25M Derrick Myers, Stonington, IL: 8. #39B Billy Wilburn, Mooresville, NC; 9. #5K Jeff Wimmenauer, Indianapolis, IN; 10. #6R Jody Rosenboom, Rock Rapids, IA; 11. #37 Matt Mitchell, Yorba Linda, CA; 12. #87 Danny Faria Jr., Tipton, CA; 13. #23F J.T. Stapp, Greensburg, IN; 14. #11C Joe Cleveland, Delphos, KS; 15. #17BB Brett Burdette, Sunman, IN; 16. #D1 Barry Lamb, Moran, KS
A Main (25 laps – Top 3 advance to Saturday Night's Main Event)
#11 Jerry Coons Jr., Tucson, AZ; 2. #20 Levi Jones, Olney, IL; 3. #05 Brad Loyet, Sunset Hills, MO; 4. #21P Daryn Pittman, Owasso, OK; 5. #71 Cole Whitt, Alpine, CA; 6. #15 Tim Siner, Dupo, IL: 7. #12 Trey Robb, Newcastle, OK; 8. #14W Matt Westfall, Ludlow Falls, OH; 9. #1DM Dustin Morgan, Collinsville, OK; 10. #7D Dakoda Armstrong, New Castle, IN; 11. #73X Mat Neely, Robinson, IL; 12. #38 Jason Leffler, Long Beach, CA; 13. #8J Greg Wilson, Benton Ridge, OH; 14. #2S Damion Gardner, Pittsboro, IN; 15. #8X Bud Kaeding, Campbell, CA; 16. #67K Kasey Kahne, Enumclaw, WA; 17. #36 Jonathan Beason, Broken Arrow, OK; 18. #12W Billy Wease, Noblesville, IN; 19. #14JR Matt Streeter, Galt, CA; 20. #007 Cole Carter, Brownsburg, IN; 21. #47 Cory Kruseman, Ventura, CA; 22. #87X Rich Camfield, Decatur, IL; 23. #2B Oklahoma City, OK; 24. #97J Kyle Larson, Elk Grove, CA
---
Submitted By: Admin Account
Back to News