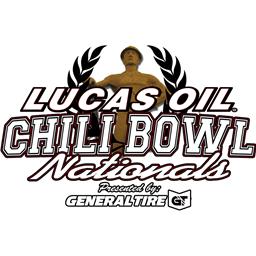 1/14/2009
Lucas Oil Chili Bowl Nationals
---
Sammy Swindell Sweeps Through Wednesday Chili Bowl Qualifier!
Lonnie Wheatley, TULSA, Okla. (January 14, 2009) – Through two nights of competition at the 23rd Annual Lucas Oil Chili Bowl Nationals presented by General Tire, Sammy Swindell stands undefeated.
After serving notice with a convincing Race of Champions triumph on Tuesday night, Swindell took on a field of 68 competitors in Wednesday night's Creek Nation Casino Qualifying Showdown at the QuikTrip Center's Tulsa Expo Raceway.
Piloting an unconventional Midget, at least in terms of appearance with an old super modified style tailtank, the four-time Chili Bowl king put a whooping on the mostly younger generation of racers by winning his heat race, qualifying race and then wiring the field in the 25-lap "A" Feature event.
Queried about the unique tailtank, Swindell simply said, "It's a secret," with a sly grin.
Only J.J. Yeley could keep Swindell in sight in the feature event. But, when Swindell cleared a group of three lapped cars on the white flag lap, the victory aboard the Esslinger-powered Venture Racing/ARIENCO/York Excavating No. 1 Spike was as good as sealed.
"We didn't really have to press anything, I didn't want to give it away or beat myself," Swindell commented after securing his 16th career Chili Bowl championship main event start. "The thing's been fantastic all week, it's so easy to drive and a lot of fun to drive."
While Swindell assured himself of a prime starting position in his pursuit of an unprecedented fifth Chili Bowl championship and accompanying Golden Driller trophy to go along with wins in 1989, 1992, 1996 and 1998, Yeley and third-place finisher Jon Stanbrough both locked themselves into Saturday night's 50-lap finale as well.
Swindell's strength on the racetrack was evident from the outset. And, if there were any doubts about the nature of his Race of Champions win on Tuesday night, they were promptly dispelled when he raced from three rows deep to make a last-lap pass of California's Brent Camarillo in the night's fourth heat race.
The Sprint Car racing legend backed it up by making a second sixth-to-first charge in the first qualifying race, making a move around Josh Ford on the eighth of ten laps.
From the pole position in the feature, there was no stopping Swindell. After weathering three cautions over the initial eight circuits as Stanbrough and Darren Hagen diced for second along with Yeley, Swindell cruised a handful of car-lengths ahead of Yeley in the race's mid-stages until hitting lapped traffic on the 15th round.
By the 20th circuit, Swindell found himself mired behind a pair of lapped cars as Yeley closed to within striking distance. Traffic finally worked to Swindell's favor before Yeley could pounce, and Swindell galloped the final lap-and-a-half to the checkered flag unabated.
Yeley brought Cruz Pedregon's Toyota-powered Odyssey Extreme Batteries/Hot Hues No. 1J Spike across the stripe second. Yeley commented that, "I've been in the alphabet soup so many times here that second place is just like winning 'cause I know on Saturday I'm locked in the 'A' and that's a lot less races than I'm used to running here."
Wingless Sprint Car ace Stanbrough secured a fifth consecutive Chili Bowl championship main event start by taking the show position aboard the Loyet Motorsports Esslinger Ford-powered No. 05s Spike.
Stanbrough explained of his late race strategy that, "We just stayed down there and tried to play it smart so we'd be in the show for Saturday night. We know what we did wrong and hopefully we can fix it and be a little better Saturday night."
Josh Ford, a two-time Chili Bowl preliminary main event winner, settled for fourth with Thomas Meseraull rounding out the top five.
Chris Windom claimed sixth, with Kevin Ramey racing from 20th to seventh in his first Chili Bowl "A" Feature action. Mike Goodman was eighth, with Hagen and 18th-starter Gary Wright completing the top ten.
Three Chili Bowl Rookie of the Year contenders made it into Wednesday night's main event, with Shane Hmiel's 14th-place run besting rookie foes Austen Wheatley (16th) and Bruce Douglass (20th).
Originally slated to start the feature from the sixth row inside, Bryan Clauson tagged the tail of the field after a quick trip to the work area to tend to mechanical issues. A fourth-place finisher at last year's Chili Bowl Nationals, Clauson carved through half the field in the opening eight laps before eventually finishing eleventh.
Hagen, Wheatley, Matt Sherrell, Swindell, Nick Wean, Joey Fabozzi, Ford, Austin Mero and Clauson each posted heat race wins, with Swindell, Windom, Joey Moughan and Meseraull topping the qualifying races.
Brady Bacon wired the field in the first "C" Main before being collected in a late-race tangle while battling for the final transfer from a "B" Main aced by Hmiel.
Jonathan Halford made last-lap pass of Donnie Lehmann to win the second "C" Main, with Wright winning the second "B" Main over fellow Texan Ramey, who edged Wean at the line for second.
California's Tim Spurgeon became the 1,000th different competitor in Chili Bowl history when he took the green flag in the night's seventh heat race. He went on to become the night's third flip victim when he got upside down in the first "C" Main.
The most spectacular of the night's half-dozen flips was 2006 Chili Bowl winner Tim McCreadie's wicked ride over the turn one barriers while handily leading the night's first "A" qualifier. The rear axle snapped as McCreadie set his mount to enter turn one on the fifth round, nearly sending the Watertown, NY, hotshoe out of the building.
Qualifying night action at the 23rd Annual Chili Bowl Nationals continues with Thursday night's Warren CAT Qualifying event, with heat races slated to start at 6:00 p.m.
Wednesday Night's Creek Nation Casino Qualifying Showdown Results from the 23rd Annual Lucas Oil Chili Bowl Midget Nationals presented by General Tire
Heat Races (8 Laps - Top 40 in passing points to A Qualifiers; Balance to two C Mains)
Heat 1: 1. #32 Darren Hagen, Riverside, CA; 2. #7A Bubba Altig, Marengo, IL; 3. #27C Tony Elliott, Warsaw, IN; 4. #7M Kevin Ramey, Fort Worth, TX; 5. #31B Bruce Douglass, Ventura, CA; 6. #99J Robby Josett, Agua Dulce, CA; 7. Dave Camfield Jr., Decatur, IL; 8. #10V Viktor Sinzig, Cupertino, CA
Heat 2: 1. #73W Austin Wheatley, Lake Stevens, WA; 2. #2A Thomas Meseraull, San Jose, CA; 3. #74 Ernie Bartley III, El Cajon, CA; 4. #D33 Joey Moughan, Springfield, IL; 5. #99 Brady Bacon, Broken Arrow, OK; 6. #15D Andrew Deal, Caney, KS; 7. #6M Justin Mallo, Cheyenne, WY; 8. #91K Kevin Bayer, Bixby, OK
Heat 3: 1. #35 Travis Berryhill, American Canyon, CA; 2. #30 Chad Boat, Phoenix, AZ; 3. #81 Doug Kammerzell, Arlington, WA; 4. #88W Shane Golobic, Fremont, CA; 5. #17F Mike Goodman, Tulsa, OK; 6. #35R Tyler Robbins, Collinsville, OK; 7. #37W Joe Walker, Harrisonville, MO; 8. 31X Eddie Martin, Stilwell, OK
Heat 4: 1. Sammy Swindell, Germantown, TN; 2. #51 Brent Camarillo, Camarillo, CA; 3. #35M Matt Sherrell, Owasso, OK; 4. #71X Gary Wright, Hooks, TX; 5. #11XS Donovan Peterson, Brookings, SD; 6. #34 Evan Sewell, Tulsa, OK; 7. #31X Scott Nail, Visalia, CA; 8. #98G Gavin Galbraith, Washington, MO
Heat 5: 1. #78 Nick Wean, Phillipsburg, NJ; 2. #7G Joe Boyles, Greenwood, MO; 3. #11W Tim McCreadie, Watertown, NY; 4. #51J R.J. Johnson, Phoenix, AZ; 5. #83H Jonathan Halford, Tulsa, OK; 6. #8E Murray Erickson, Odessa, TX; 7. #20B Carey Becker, Reading, PA; 8. #39J Justin Grosz, Hawley, PA
Heat 6: 1. #84 Joey Fabozzi, Norco, CA; 2. #87J Johnny Rodriguez, Galt, CA; 3. #21X Kevin Olson, Machesney Park, IL; 4. #12C Rick England, Wichita, KS; 5. #7S Shannon McQueen, Bakersfield, CA; 6. #6 Brian Carter, Frisco, TX; 7. #3W Brandon Waelti, Sun Prairie, WI
Heat 7: 1. #73 Josh Ford, Oxnard, CA; 2. #47X Jerome Rodela, El Monte, CA; 3. #1J J.J. Yeley, Phoenix, AZ; 4. #71K Cale Conley, Vienna, WV; 5. #92R Jacob Rosario, Guthrie, OK; 6. #6E Rafe Essary, Fayetteville, AR; 7. #35P Tim Spurgeon, San Ramon, CA
Heat 8: 1. #17K Austin Mero, Kingsburg, CA; 2. #05S John Stanbrough, Avon, IN; 3. #17 Chris Windom, Canton, IL; 4. #24C Casey Riggs, Shelbyville, IN; 5. #31 Donnie Lehmann, Springfield, IL; 6. #48 Lee Little, Mustang, OK; 7. #10W George White, Fort Worth, TX
Heat 9: 1. #47B Bryan Clauson, Noblesville, IN; 2. #56 Shane Hmiel, Huntersville, NC; 3. #8 Randi Pankratz, Atascadero, CA; 4. #11R Ryan Cole, Porter, OK; 5. #401 Daniel Adler, East Carondolet, IL; 6. #6J Justin Barger, Montrose, NY; DNS – Johnny Heydenriech, Indianapolis, IN
C Mains (12 Laps - Top 4 in each transfer to back of corresponding B Main)
C Main 1: 1. #99 Brady Bacon, Broken Arrow, OK; 2. #401 Daniel Adler, East Carondolet, IL; 3. #15D Andrew Deal, Caney, KS; 4. #11XS Donovan Peterson, Brookings, SD; 5. #86C Dave Camfield Jr., Decatur, IL; 6. #37W Joe Walker, Harrisonville, MO; 7. #99J Randy Josett, Agua Dulce, CA; 8. #31X Scott Nail, Visalia, CA; 9. #1X Eddie Martin, Stilwell, OK; 10. #3W Brandon Waelti, Sun Prairie, WI; 11. #91K Kevin Bayer, Bixby, OK; 12. #92R Jake Rosario, Guthrie, OK; 13. #6 Brian Carter, Frisco, TX; 14. #39J Justin Grosz, Hawley, PA
C Main 2: 1. #83H Jonathan Halford, Tulsa, OK; 2. #31 Donnie Lehmann, Springfield, IL; 3. #7S Shannon McQueen, Bakersfield, CA; 4. #6J Justin Barger, Montrose, NY; 5. #6E Rafe Essary, Fayetteville, AR; 6. #34 Evan Sewell, Tulsa, OK; 7. #10V Viktor Sinzig, Cupertino, CA; 8. #20B Carey Becker, Reading, PA; 9. #98G Gavin Galbraith, Washington, MO; 10. #10W George White, Fort Worth, TX; 11. #6M Justin Mallo, Cheyenne, WY; 12. #48 Lee Little, Mustang, OK; 13. #35P Tim Spurgeon, San Ramon, CA DNS – Johnny Heydenreich, Indianapolis, IN
A Qualifiers (10 Laps - Top 16 in combined passing points to A Main; Balance to twin B Mains)
A Qualifier 1: 1. #1 Sammy Swindell, Germantown, TN; 2. #73 Josh Ford, Oxnard, CA; 3. #21X Kevin Olson, Machesney Park, IL; 4. #84 Joey Fabozzi, Norco, CA; 5. #51 Brent Camarillo, Camarillo, CA; 6. #71X Gary Wright, Hooks, TX; 7. #81 Doug Kammerzell, Arlington, WA; 8. #73W Austen Wheatley, Lake Stevens, WA; 9. #74 Ernie Bartley III, El Cajon, CA; 10. #11W Tim McCreadie, Watertown, NY
A Qualifier 2: 1. #17 Chris Windom, Canton, IL; 2. #87J Johnny Rodriguez, Galt, CA; 3. #1J J.J. Yeley, Phoenix, AZ; 4. #17F Mike Goodman, Tulsa, OK: 5. #17K Austin Mero, Kingsburg, CA; 6. #51J R.J. Johnson, Phoenix, AZ; 7. #7M Kevin Ramey, Fort Worth, TX; 8. #12C Rick England, Wichita, KS; 9. #88W Shane Golobic, Fremont, CA; 10. #47X Jerome Rodela, El Monte, CA
A Qualifier 3: 1. #D33 Joey Moughan, Springfield, IL; 2. #05S Jon Stanbrough, Avon, IN; 3. #47B Bryan Clauson, Noblesville, IN; 4. #56 Shane Hmiel, Huntersville, NC; 5. #11R Ryan Cole, Porter, OK; 6. #35R Tyler Robbins, Collinsville, IL; 7. #71K Cale Conley, Vienna, WV; 8. #24C Casey Riggs, Shelbyville, IN; 9. #30 Chad Boat, Phoenix, AZ; 10. #35 Travis Berryhill, American Canyon, AZ
A Qualifier 4: 1. #2A Thomas Meseraull, San Jose, CA; 2. #32 Darren Hagen, Riverside, CA; 3. #35M Matt Sherrell, Owasso, OK; 4. #31B Bruce Douglass, Ventura, CA; 5. #8 Randi Pankratz, Atascadero, CA; 6. #7G Joe Boyles, Greenwood, MO; 7. #8E Murray Erickson, Odessa, TX; 8. #7A Bubba Altig, Marengo, IL; 9. #78 Nick Wean, Phillipsburg, NJ; 10. #27C Tony Elliott, Warsaw, IN
B Mains (15 Laps - Top 4 in each advance to A Main)
B Main 1: 1. #56 Shane Hmiel, Huntersville, NC; 2. #35R Tyler Robbins, Collinsville, IL; 3. #73W Austen Wheatley, Lake Stevens, WA; 4. #11R Ryan Cole, Porter, OK; 5. #30 Chad Boat, Phoenix, AZ; 6. #7G Joe Boyles, Greenwood, MO; 7. #81 Doug Kammerzell, Arlington, WA; 8. #11XS Donovan Peterson, Brookings, SD; 9. #15D Andrew Deal, Caney, KS; 10. #401 Daniel Adler, E. Carondolet, IL; 11. #99 Brady Bacon, Broken Arrow, OK; 12. #35 Travis Berryhill, American Canyon, CA; 13. #8E Murray Erickson, Odessa, TX; 14. #12C Rick England, Wichita, KS; 15. #88W Shane Golobic, Fremont, CA; 15. #27C Tony Elliott, Warsaw, IN
B Main 2: 1. #71X Gary Wright, Hooks, TX; 2. #7M Kevin Ramey, Fort Worth, TX; 3. #78 Nick Wean, Phillipsburg, NJ; 4. #8 Randi Pankratz, Atascadero, CA; 5. #51J R.J. Johnson, Phoenix, AZ; 6. #71K Cale Conley, Vienna, WV; 7. #7A Bubba Altig, Marengo, IL; 8. #51 Brent Camarillo, Camarillo, CA; 9. #31 Donnie Lehmann, Springfield, IL; 10. #47X Jerome Rodela, El Monte, CA; 11. #7S Shannon McQueen, Bakersfield, CA; 12. #24C Casey Riggs, Shelbyville, IN; 13. #83H Jonathan Halford, Tulsa, OK; 14. #6J Justin Barger, Montrose, NY; 15. #74 Ernie Bartley III, El Cajon, CA; DNS – #11W Tim McCreadie, Watertown, NY
A Main (25 laps – Top 3 advance to Saturday Night's Main Event)
#1 Sammy Swindell, Germantown, TN; 2. #1J J.J. Yeley, Phoenix, AZ; 3. #05S Jon Stanbrough, Avon, IN; 4. #73 Josh Ford, Oxnard, CA; 5. #2A Thomas Meseraull, San Jose, CA; 6. #17 Chris Windom, Canton, IL; 7. #7M Kevin Ramey, Fort Worth, TX; 8. #17F Mike Goodman, Tulsa, OK; 9. #32 Darren Hagen, Riverside, CA; 10. #71X Gary Wright, Hooks, TX; 11. #47B Bryan Clauson, Noblesville, IN; 12. #87J Johnny Rodriguez, Galt, CA; 13. #D33 Joey Moughan, Springfield, IL; 14. #56 Shane Hmiel, Huntersville, NC; 15. #21X Kevin Olson, Machesney Park, IL: 16. #73W Austen Wheatley, Lake Stevens, WA; 17. #17K Austin Mero, Kingsburg, CA; 18. #78 Nick Wean, Phillipsburg, NJ; 19. #8 Randi Pankratz, Atascadero, CA; 20. #31B Bruce Douglass, Ventura, CA; 21. #84 Joey Fabozzi, Norco, CA; 22. #35R Tyler Robbins, Collinsville, IL; 23. #35M Matt Sherrell, Owasso, OK; 24. #11R Ryan Cole, Porter, OK
---
Submitted By: Admin Account
Back to News