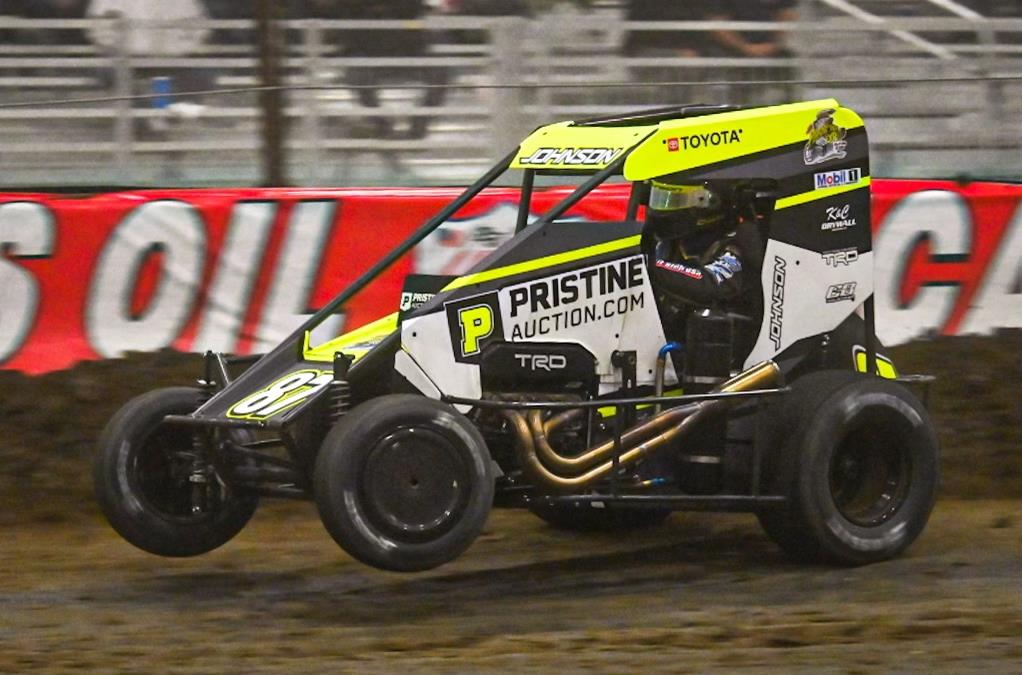 1/18/2022
Inside Line Promotions
---
Chase Johnson Ties Career-Best Chili Bowl Midget Nationals Preliminary Night Result Before Making Main Event
(Photo by Ramsey Racing Images)
Inside Line Promotions – TULSA, Okla. (Jan. 18, 2022) – Chase Johnson achieved his goals last week behind the wheel of a CB Industries race car during the 36th annual Lucas Oil Chili Bowl Midget Nationals presented by General Tire.
Johnson, who was making his debut with the team, tied a career-best preliminary result with a third-place showing before he made his third career A Main during the marquee midget event at Tulsa Expo Raceway.
"I was pretty happy with it," he said. "I wish we had a better result on Saturday, but to run third in our prelim night and make Saturday's A Main was great. I try not to have expectations. You just have how you want to do or think you can do. Going in there the main goal is to make the show and then once you make the show you can try to make more happen after that."
Johnson kicked off the event a week ago Monday when he won a heat race from third, advanced from fourth to second in a qualifier and maneuvered from sixth to third place in the feature.
"The prelim night was good," he said. "I felt really comfortable and confident right out of the box. I think that showed with how we did, getting the heat race win. In the qualifier I felt we had a good shot to win and we ran second. That put us in a great starting spot come feature-time. I was able to move forward and stay out of trouble.
"We were bouncing around in a couple of positions. We got to third and then the rubber came in. It would have been nice to see if we had something to win the prelim or lock in, but a podium is still great and put us in a great position come Saturday."
Johnson finished fifth in a B Main on Saturday to transfer into the 55-lap feature.
"The B Main was all right," he said. "We did what we needed to do to transfer. That was the main goal. It wasn't to set the world on fire; it was making sure we didn't have any mistakes and moved on to run the big show.
"Come feature-time we weren't as good as we were hoping and missed it just a little on the setup. I was too tight starting the race with that much moisture they had in the track. We were good in the end, but by that time we had been shuffled to the back and the positions were settled in."
Johnson was credited with a 23rd-place result.
"I want to thank Chad and the team at CB Industries for the opportunity," he said. "I had a great time and was pleased with our success."
QUICK RESULTS –
Jan. 10 – Tulsa Expo Raceway in Tulsa, Okla. – Heat race: 1 (3); Qualifier: 2 (4); Feature: 3 (6).
Jan. 15 – Tulsa Expo Raceway in Tulsa, Okla. – B Main: 5 (2); Feature: 23 (19).
MEDIA LINKS –
Website: http://www.ChaseJohnsonRacing.com
Twitter: http://www.twitter.com/_ChaseJohnson
Facebook: https://www.facebook.com/ChaseJohnsonRacing
INSIDE LINE PROMOTIONS –
Inside Line Promotions specializes in affordable public relations and media management for motor sports drivers, teams, sponsors, tracks, series, events, organizations and manufacturers. ILP Founder Shawn Miller leverages professional journalism with new media technologies and social networking to improve your exposure and the return on investment for your sponsors.
To meet the media relations needs of your program by joining Team ILP, contact Shawn at 541-510-3663 or Shawn@InsideLinePromotions.com. For more information on Inside Line Promotions, visit http://www.InsideLinePromotions.com.
---
Article Credit: Inside Line Promotions
Submitted By: Shawn Miller
Back to News