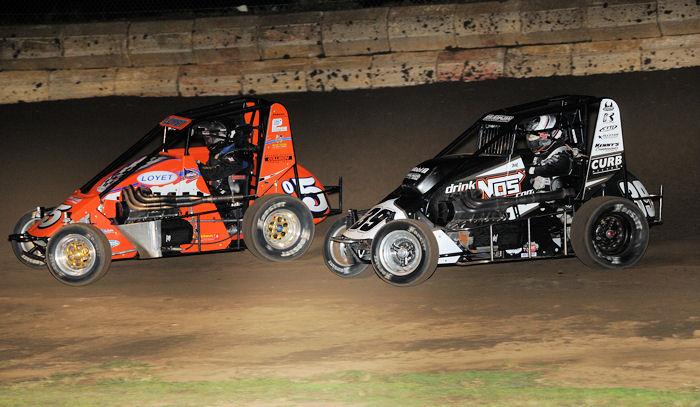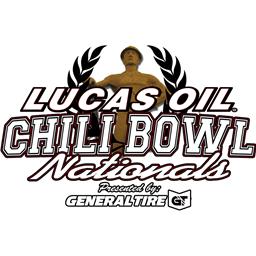 1/6/2012
Lucas Oil Chili Bowl Nationals
---
Chili Bowl Chock-Full of Champions!
Lonnie Wheatley, TULSA, Okla. (January 6, 2012) – The Chili Bowl Nationals has long been known as a gathering place of the best of the best from all forms of racing, from the upper echelons of the sport to the grassroots level.
And the 26th edition of the Lucas Oil Chili Bowl Nationals set for next Tuesday through Saturday at the QuikTrip Center's Tulsa Expo Raceway is no exception with NASCAR champions Tony Stewart and Ricky Stenhouse, Jr., headlining an impressive list of 2011 series champions.
While Stewart and Stenhouse took titles under National television spotlights, champions from all variety of Sprint Car and Midget series as well as one the nation's premier Late Model series will be on hand as well.
Coming off his third NASCAR Sprint Cup title, Stewart returns to the Chili Bowl for the first time since 2008 in search of his third Chili Bowl triumph.
Stenhouse, who made the cut for his second Chili Bowl championship finale last January, went on to capture his first championship at the next level by taking the top spot with the NASCAR Nationwide series.
While the Chili Bowl is teeming with open wheel aces from the Sprint Car and Midget ranks that Stewart and Stenhouse climbed, Rick Eckert represents the popular Late Model racers. Eckert makes his fifth Chili Bowl appearance and first since 2010 after capturing the World of Outlaws Late Model championship in 2011.
Among the open wheelers, at least three drivers captured multiple championships in 2011 including Levi Jones, Brad Loyet and Brady Short.
Jones captured both the USAC Sprint Car and USAC Silver Crown championships in 2011 and takes aim at his first Chili Bowl finale since 2009.
Loyet added his third POWRi Midget championship in 2011 while also capturing the ASCS Warrior Region title in his rookie year of Sprint Car competition. Spearheading the potent six-car Loyet Motorsports stable, Loyet guns for his fourth consecutive Chili Bowl championship main event.
Short, a part of the A.J. Felker stable, tries for his first Chili Bowl finale after earning the MSCS (Non-Wing Sprint Car) and Bloomington Speedway titles in 2011.
One champion actually landed a ride for the Chili Bowl by earning his title, as the Midwest Open Wheel Association fields an entry for Jerrod Hull as part of his championship package with the Illinois-based winged Sprint Car series.
With countless champions from previous years throughout the QuikTrip Center, champions from 2011 include the following:
Bill Balog - IRA (Winged Sprint Cars)
Bryan Clauson – USAC Midgets
Shane Cottle – Kokomo Speedway (Non-Wing Sprint Cars)
Dave Darland – King of Indiana Sprint Series (Non-Wing Sprint Cars)
Rick Eckert – World of Outlaw Late Models
Taylor Lynn Ferns – USAC Mopar D1 Midgets
Blake Hahn – ASCS2 Outlaw Micro Sprints
Jerrod Hull – Midwest Open Wheel Association (MOWA)
C.J. Johnson – NCRA (Winged Sprint Cars)
Levi Jones - USAC Sprint Cars and USAC Silver Crown
Brad Kuhn – BMARA Midgets
Cory Kruseman – USAC Western States Midgets
Brad Loyet – ASCS Warrior Region (winged Sprint Cars) and POWRi Midgets
Brady Short – MSCS and Bloomington Speedway (Non-Wing Sprint Cars)
Mike Spencer – USAC/CRA (Non-Wing Sprint Cars)
Ricky Stenhouse, Jr. – NASCAR Nationwide
Tony Stewart – NASCAR Sprint Cup
Richard VanderWeerd – USAC West Coast 360 Sprint Cars (Non-Wing)
Matt Westfall – Waynesfield Raceway Park (Non-Wing Sprint Cars)
Currently, there are 261 entries for next week's Chili Bowl Nationals representing 31 states as well as Canada, Australia, New Zealand and Finland.
Following Monday's practice session, four nights of qualifying action on Tuesday, Wednesday, Thursday and Friday will set Saturday's feature grids, with the top three finishers from each night locking into Saturday's 50-lap championship "A" Main.
Tuesday's card will also include the Fourth Annual Vacuworx International Race of Champions (VIROC IV).
A limited number of tickets are available for the Tuesday night, January 10, Warren CAT Chili Bowl Qualifier and Vacuworx International Race of Champions for just $43 apiece. Tickets may be obtained by calling the ticket office at 918-838-3777.
Lucas Oil Chili Bowl Nationals Quick Facts:
What: 26th Annual Lucas Oil Chili Bowl Midget Nationals
Where: Tulsa Expo Raceway – ¼-mile clay oval inside the QuikTrip Center at the Tulsa State Fairgrounds
When:
January 10-14, 2011
Tuesday – Warren CAT Qualifying Night plus Vacuworx Chili Bowl Race of Champions
Wednesday – River Spirit Casino Qualifying Night
Thursday – Suburban Chevrolet Qualifying Night
Friday – Vacuworx International Qualifying Night
Saturday – Lucas Oil Championship Feature Events
The five nights of racing action will be preceded by a practice session on Monday, January 9.
Past Winners: Kevin Swindell (2010 and 2011), Sammy Swindell (2009, 1998, 1996, 1992 and 1989), Damion Gardner (2008), Tony Stewart (2007 and 2002), Tim McCreadie (2006), Tracy Hines (2005), Cory Kruseman (2004 and 2000), Dan Boorse (2003 and 1999), Jay Drake (2001), Billy Boat (1997), Donnie Beechler (1995), Andy Hillenburg (1994), Dave Blaney (1993), Lealand McSpadden (1991), Jon Heydenreich (1990), Scott Hatton (1988), Rich Vogler (1987).
Trade Show: Always a popular attraction at the Chili Bowl Midget Nationals is the Trade Show, which is open to the public each day (Tuesday through Saturday) free of charge. All variety of racing products, apparel and more is available with well over 100 different vendors. The Trade Show covers approximately 20,000 square feet.
Tickets: A limited number of reserved seats for Tuesday night's Warren CAT Qualifying Event and the Fourth Annual Vacuworx International Chili Bowl Race of Champions are available for $43 per person and may be obtained by calling 918-838-3777 or at the gate if still available. Pit passes for all five nights are available at the gate as well.
Chili Bowl on the Net: All official news pertaining to the 26th Annual Lucas Oil Chili Bowl Midget Nationals, including official entry lists, race results and recaps, is available first at www.chilibowl.com. Also, all five nights of the Chili Bowl Nationals will be broadcast live (audio) on www.racinboys.com.
Additional information regarding the Lucas Oil Chili Bowl Midget Nationals is available at http://www.chilibowl.com/ or by calling 918-838-3777.
(Pictured; Brad Loyet (05) won titles in both Sprint Car and Midget action in 2011 while Bryan Clauson (39) earned the USAC Midget and National Driver's championship to land an Indy 500 ride.)
---
Submitted By: Lonnie Wheatley
Back to News