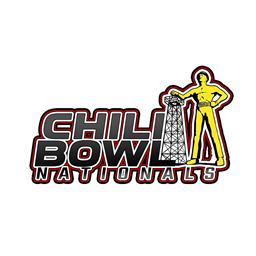 1/9/2002
Chili Bowl Nationals
---
16th Annual Chili Bowl - Wednesday Night News and Notes
B Main action … In the first B Main, A.J. Fike and Gary Wright battled for the lead throughout the 15-lap event. On Lap 13, Fike took the lead for good when he passed Wright on the outside of Turn 2. Sammy Swindell took the third and final transfer spot on Lap 14 after starting 12th.
In the second B Main, Davey Ray drove around Matthew Neely on Lap 9 and led the rest of the race. Aaron Kirk finished third, outracing Joe Boyles at the end. On Lap 7, Mike Hess, Kirk and Ray were battled for third, but Hess ended up on the outside looking in and spun in Turn 3, taking him out of contention.
C Main action ... Scott Sawyer, of Broken Arrow, OK, took the lead from the pole on the first lap and led all 12 laps of the race. Johnny Miller took second, with Chris Wagner third and Jeff Parga taking fourth.
Heat race action … In the first heat, Greg Lueckert drives from fourth to first, passing pole starter Gary Wright on the first lap. Wright and Lueckert battle throughout the race, with Lueckert taking the victory and Wright finishing second.
In the second heat, Bryan Stanfill and A.J. Fike battled for the last half of the race and swapped the lead several times. But on Lap 10, Fike jumped the cushion in Turn 2 and spun out and Stanfill took the victory.
Kasey Kahne took the lead from pole starter Matthew Rossi on the ninth lap to win the third heat race.
Don Lehmann led all 10 laps of the fourth heat race, with Richard Griffin taking second and Floyd Alvis third.
In the fifth heat race, Bud Kaeding drove from fifth to first in five laps. Kaeding passed Mike Leslie for the lead on Lap 5.
Kevin Doty led all 10 laps from the front row of the sixth heat race.
In the seventh heat race, Ron Gregory drove to the inside of pole starter Kenny Brown and took the lead on Lap 3 and led the rest of the 10-lap event.
Wally Pankratz led all 10 laps from outside the front row of the eighth heat, but edged Robert Marfia for the victory on the final lap.
In the ninth heat race, Randy Nigg led all 10 laps from the pole, as A.J. Anderson edged John Wolfe for second on the final lap.
Results for heat races (10 laps) Wednesday night
(top 14 in passing points to A; next 28 to two B mains; rest to C main)
Heat 1: 1. #01, Greg Lueckert, Kansas City, MO; 2. #24, Gary Wright, Hooks, TX; 3. #16F, Chad Farmer, Colorado Springs, CO; 4. #7B, Joe Boyles, Greenwood, MO; 5. #91AZ, Preston Norbury, Prescott Valley, AZ; 6. #75S, Fred Schell, Phoenixville, PA; 7. #11X, David Bridges, Speedway, IN
Heat 2: 1. #8B, Bryan Stanfill, Bakerfield, CA; 2. #17N, Mathew Neely, Robison, IL; 3. #12B, Chris Urish, Elkhart, IL; 4. #3Q, Lee Walther, Oklahoma City, OK; 5. #69, A.J. Fike, Galesburg, IL; 6. #51T, Don Trent, Honeybrook, PA; 7. #43, Kevin Arnold, Franklin, IN
Heat 3: 1. #51, Kasey Kahne, Enumclaw, WA; 2. #44, Matthew Rossi, Phoenix, AZ; 3. #51H, Mike Hess, Petersburg, IL; 4. #85, Michael Lewis, Fishers, IN; 5. #7M, Tim McVay, Blue Springs, MO; 6. #78C, David Camfield, Sr, Maroa, IL; 7. #27, Jon Foster, Marion, IL
Heat 4: 1. #31, Don Lehmann, Springfield, IL; 2. #67, Richard Griffin, Silver City, NM; 3. #18, Floyd Alvis, San Carlos, CA; 4. #10W, Stephanie Chappell, Talala, OK; 5. #29, Scott Sawyer, Broken Arrow, OK; 6. #37, Johnny Miller, Burleson, TX
Heat 5: 1. #29K, Bud Kaeding, Campbell, CA; 2. #71L, Mike Leslie, Peoria, AZ; 3. #25B, Teddy Beach, Donnelsville, OH; 4. #15, Tim Siner, Dupo, IL; 5. #0, Johnny Murdock, Kaufman, TX; 6. #42P, Chris Pearce, Broken Arrow, OK
Heat 6: 1. #12, Kevin Doty, Milan, IL; 2. #21K, Kurt Mayhew, Demotte, IN; 3. #45, Aaron Kirk, Conroe, TX; 4. #99M, Mike Miller, Wapakoneta, OH; 5. #33A, Stephen Arnold, Seymour, IN; 6. #19, Chris Wagner, Colorado Springs, CO
Heat 7: 1. #22, Ron Gregory, Noblesville, IN; 2. #17B, Kenny Brown, Millstadt, IL; 3. #2R, Davey Ray, Davenport, IA; 4. #10G, Bill Baue, Indianapolis, IN; 5. #6, Jeff Parga, Glenarm, IL; 6. #4, Toby Alfrey, Miamisburg, OH
Heat 8: 1. #1P, Wally Pankratz, Orange, CA; 2. #6M, Robert Marfia, Jr., Rio Rancho, NM; 3. #26, Glenn Carson, Newark, CA; 4. #1, Sammy Swindell, Germantown, TN; 5. #3W, Brandon Waelti, Sun Prairie, WI; 6. #11J, Todd Jackson, Independence, MO
Heat 9: 1. #67N, Randy Nigg, Colorado Springs, CO; 2. #5, A.J. Anderson, State Line, IN; 3. #3M, John Wolfe, Winchester, IN; 4. #19, Chris Wagner, Colorado Springs, CO; 5. #41, Tyce Carlson, Indianapolis, IN; 6. #13, Benny Taylor, Inola, OK
1 C Main (12 laps) - Top 4 transfer to twin B mains
C Main: 1. #29, Scott Sawyer, Broken Arrow, OK; 2. #37, Johnny Miller, Burleson, TX; 3. #19, Chris Wagner, Colorado Springs, CO; 4. #6, Jeff Parga, Glenarm, IL; 5. #11X, David Bridges, Speedway, IN; 6. #42P, Chris Pearce, Broken Arrow, OK; 7. #78C, David Camfield, Sr, Maroa, IL; 8. #43, Kevin Arnold, Franklin, IN; 9. #75S, Fred Schell, Phoenixville, PA; 10. #27, Jon Foster, Marion, IL; 11. #0, Johnny Murdock, Kaufman, TX; 12. #4, Toby Alfrey, Miamisburg, OH; 13. #11J, Todd Jackson, Independence, MO; Did not start - #51T, Don Trent, Honeybrook, PA; Did not start - #13, Benny Taylor, Inola, OK
2 B Mains (15 laps) - Top 3 transfer to A Feature
1st B Main: 1. #69, A.J. Fike, Galesburg, IL; 2. #24, Gary Wright, Hooks, TX; 3. #1, Sammy Swindell, Germantown, TN; 4. #5, A.J. Anderson, State Line, IN; 5. #15, Tim Siner, Dupo, IL; 6. #19S, Ronnie Day, Salinas, CA; 7. #3W, Brandon Waelti, Sun Prairie, WI; 8. #29, Scott Sawyer, Broken Arrow, OK; 9. #91AZ, Preston Norbury, Prescott Valley, AZ; 10. #12B, Chris Urish, Elkhart, IL; 11. #19, Chris Wagner, Colorado Springs, CO; 12. #21K, Kurt Mayhew, Demotte, IN; 13. #25B, Teddy Beach, Donnelsville, OH; 14. #10G, Bill Baue, Indianapolis, IN; 15. #85, Michael Lewis, Fishers, IN; 16. #6M, Robert Marfia, Jr., Rio Rancho, NM
2nd B Main: 1. #2R, Davey Ray, Davenport, IA; 2. #17N, Mathew Neely, Robison, IL; 3. #45, Aaron Kirk, Conroe, TX; 4. #7B, Joe Boyles, Greenwood, MO; 5. #26, Glenn Carson, Newark, CA; 6. #17B, Kenny Brown, Millstadt, IL; 7. #44, Matthew Rossi, Phoenix, AZ; 8. #7M, Tim McVay, Blue Springs, MO; 9. #10W, Stephanie Chappell, Talala, OK; 10. #33A, Stephen Arnold, Seymour, IN; 11. #6, Jeff Parga, Glenarm, IL; 12. #41, Tyce Carlson, Indianapolis, IN; 13. #3Q, Lee Walther, Oklahoma City, OK; 14. #99M, Mike Miller, Wapakoneta, OH; 15. #51H, Mike Hess, Petersburg, IL; 16. #37, Johnny Miller, Burleson, TX
A Feature (25 laps) - top 4 transfer to Saturday A Feature, rest to Saturday B & C Features
A Feature: 1. #12, Kevin Doty, Milan, IL; 2. #51, Kasey Kahne, Enumclaw, WA; 3. #01, Greg Lueckert, Kansas City, MO; 4. #16F, Chad Farmer, Colorado Springs, CO; 5. #67, Richard Griffin, Silver City, NM; 6. #69, A.J. Fike, Galesburg, IL; 7. #3M, John Wolfe, Winchester, IN; 8. #2R, Davey Ray, Davenport, IA; 9. #67N, Randy Nigg, Colorado Springs, CO; 10. #71L, Mike Leslie, Peoria, AZ; 11. #1P, Wally Pankratz, Orange, CA; 12. #45, Aaron Kirk, Conroe, TX; 13. #22, Ron Gregory, Noblesville, IN; 14. #18, Floyd Alvis, San Carlos, CA; 15. #31, Don Lehmann, Springfield, IL; 16. #1, Sammy Swindell, Germantown, TN; 17. #8B, Bryan Stanfill, Bakerfield, CA; 18. #17N, Mathew Neely, Robison, IL; 19. #29K, Bud Kaeding, Campbell, CA; 20. #24, Gary Wright, Hooks, TX
---
Submitted By: Admin Account
Back to News