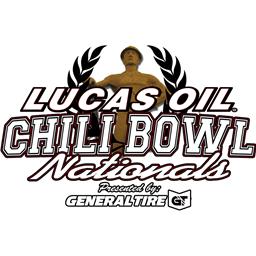 1/11/1992
Lucas Oil Chili Bowl Nationals
---
SWINDELL FIRST TWO-TIME WINNER
TULSA, Okla. - A standing-room only crowd watched Sammy Swindell take command early en route to becoming the first repeat winner in the six year history of the Chili Bowl Midget Nationals.
Thursday night's preliminary winner Kevin Doty grabbed the initial lead over Friday's prelim winner, Ken Schrader. Schrader and fourth-starter Swindell made contact on the backstretch on the opening round, with Schrader spinning. Schrader restarted at the rear.
Doty once again took command on the restart, with defending race winner Lealand McSpadden, Swindell and Page Jones in tow. Utilizing the cushion, Swindell made his way around McSpadden for second on lap two, then overtook Doty for the lead three rounds later.
Swindell's rapid pace in Larry Howard's Fontana-powered Ellis was interrupted for the fist time after 42 laps for a spin by rookie pilot Greg Vernetti. Swindell's charge to the checkered flag was delayed one more time when fifth-running Ron Shuman tangled with Doty and Shane Carson on the white flag lap.
McSpadden made a last ditch effort to overtake Swindell on the final restart, but Swindell held a four car-length advantage at the checkered flag. McSpadden settled for second in Andy Bondio's Barnes Engineering entry, with Andy Hillenburg third in Keith & Rusty Kunz's Challenger. Jones crossed the stripe in fourth, with Danny Lasoski rounding out the top five.
Results
A Feature (50 Laps): 1. Sammy Swindell, 2. Lealand McSpadden, 3. Andy Hillenburg, 4. Page Jones, 5. Danny Lasoski, 6. Dan Boorse, 7. Ken Schrader, 8. Mike Streicher, 9. David Strickland, 10. Randy Roberts, 11. Stevie Reeves, 12. Johnny Parsons, 13. Jerry Stone, 14. Aaron Berryhill, 15. Donnie Beechler, 16. Gene Gennetten, 17. Ron Shuman, 18. Gary Howard, 19. Greg Vernetti, 20. Kevin Doty, 21. Shane Carson, 22. Pat Lysell.
First B Feature: 1. Shane Carson, 2. Gene Gennetten, 3. Jerry Stone, 4. Pat Lysell, 5. Greg Vernetti.
Second B Feature: 1. Donnie Beechler, 2. Aaron Berryhill, 3. Gary Howard, 4. Randy Roberts, 5. Johnny Parsons, Jr.
First C Feature: 1. Terry Holderfield, 2. Andy Pierce, 3. Steve Gennetten, 4. Kurt Mayhew, 5. Darrell Calhoun, 6. Tim McVay, 7. Dean Franklin, 8. Ed Wilson, 9. Mike Peters, 10. Bill Wilburn, 11. Perry Younce, 12. Jerry Parchman, 13. Barry Valentino.
Second C Feature: 1. Tom Eatwell, 2. Jackie Burke, 3. Ronnie Burke, Jr., 4. Joe McCarthy, 5. Johnny Heydenreich, 6. Terry Gray, 7. Mark Stasa, 8. Pepi Marchese, 9. Scott Weyant, 10. Ronald Kuhn, 11. Robert Hanley, 12. Wayne Brauner, 13. Aaron Truax, 14. Danny Frye.
First D Feature: 1. Darrell Calhoun, 2. Tim McVay, 3. Roger Branson, Jr., 4. Manny Rockhold, 5. Robert McGuire, 6. Corky Wheeler, 7. Bill Eslick, 8. Shane Stewart, 9. Steve Newman.
Second D Feature: 1. Robert Hanley, 2. Ronald Kuhn, 3. Bob Harr, 4. Manuel Pina, 5. Susan Spencer, 6. Earl Walls, 7. Marty Davis, 8. Darren Crocker, 9. Kelly Shaw, 10. Davey Camfield, 11. Eddie Lynch, 12. Bruce Donaldson, 13. Jim Parson.
Thursday's Preliminary Feature (Top 10): 1. Kevin Doty, 2. Sammy Swindell, 3. Ron Shuman, 4. Andy Hillenburg, 5. Danny Lasoski, 6. Stevie Reeves, 7. Shane Carson, 8. Jerry Stone, 9. Gene Gennetten, Dean Billings.
Friday's Preliminary Feature (Top 10): 1. Ken Schrader, 2. Lealand McSpadden, 3. Page Jones, 4. Dan Boorse, 5. Dave Strickland, 6. Mike Streicher, 7. Donnie Beechler, 8. Aaron Berryhill, 9. Gary Howard, 10. Phillip Heavelow.
---
Submitted By: Admin Account
Back to News